My John Thornhill Master Class Bonus
Finally Discover What It Takes To Succeed Online, Work Personally With John Thornhill Throughout 2010.

Are the following email titles familiar? Newbie makes $1,000 000 in less than an hour! Build a list of millions in a day. Millionaire gives you the secret to his success, copy my plan and retire in 30 days. Ok I may be exaggerating (slightly) but how often have you been taken in by hype like this. Well I confess that I have more than once.
It was therefore with some trepidation that I signed up in February 2009 to the John Thornhill Masterclass. Although I was still very apprehensive I had known of John for several years I had bought some of his products through his eBay shop. I have been on his mailing list for several years and he had always delivered an amazing amount of free content and advice. John has an enviable reputation as a good honest guy.
My product was selling on eBay, Amazon and beyond, as an eBay PowerSeller, I wanted to teach my system to others so I created Plugin Auction Profits a three module system that takes you from eBay to e-commerce in 3 easy steps. With the help of Johns video instruction I recorded 19 videos, and an Audio interview with a PowerSeller. I also produced a ride along workbook and a sourcing directory. In short a complete course on setting up your eBay and Amazon business.

Are you fed up with people offering bonuses "worth" thousands of dollars? Have you seen the same stuf doing the rounds and being offered on other programs? If the answer is yes then get ready fo my UNIQUE bonus! If you buy John Thornhill's Masterclass Program through my link you will receive my complete eBay-e-commerce course actually created as part of John's 2009 Masterclass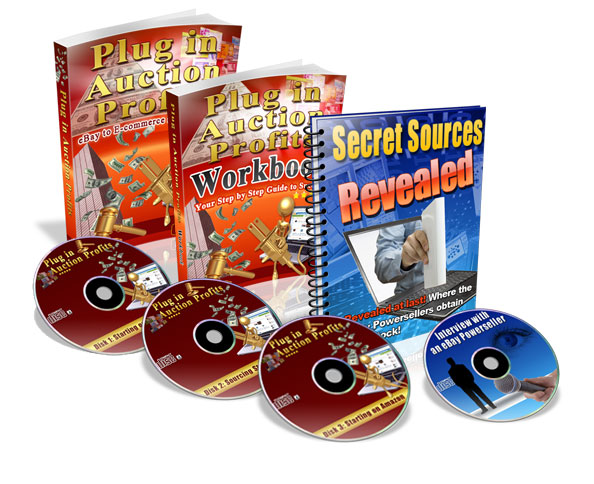 "So OK Robert what EXACTLY do I get in my bonus ?" Plugin Auction Profits is a COMPLETE business plan. So I have put together THE COMPLETE PACKAGE to get you up and running in the shortest time possible. Your package includes all the following items.
Module 1 - Making A Start
Start your online business the right way by following a simple step by step plan. Minimize your risk and learn hoe to lay the foundations of a successful online business. My Step-By-Step Action Plans will show you EXACTLY what you need to do to succeed.
Module 2 - Build Your Business
In Module 2 I will show you how you can build your eBay business and become a Powerseller. How to source stock to resell at a profit, the common mistakes that eBayers make. How to compete with the Powersellers without competing with them. The importance of working in niche markets to maximize profits. I also reveal the simple ways of exploding your online sales 99% of eBayers never do this. How to automate your business so it runs on near AUTOPILOT!
Module 3 - Beyond eBay To E-Commerce
Move your business to a new level! In this Module we take our business onto Amazon and into the realms of e-commerce web sites. Many people shy away from e-commerce thinking that it is more complicated than it is In Module 3 I will show you how you can setup an e-commerce website in just a few hours. It requires NO technical skills at all, if you can click a mouse you can do this! Create a money making website the easy way.
Bonus 1: - Plan Your Business
Use the ride along workbook to chart your progress and plan ahead. Use the ACTION STEPS to plan your progress and build your business one step at a time.
Bonus 2: - Product Sourcing: Secret Sources Revealed
Where do the eBay Powersellers (or Amazon sellers) obtain their stock. In Secret Sources Revealed I give you MY OWN list of suppliers, the ones that I use on a daily basis in my own online businesses. The information and sources here is literally priceless.
Bonus 3: - eBay Flying Start Video Series
New to eBay or just want to learn some more? This series of 10 Step-By-Step Videos will show you what you need to do to make a start, and how you can use the tools available for FREE to automate your business.
Bonus 4: - Product Sourcing Video Series
Compliments my Secret Sources Revealed, learn the secret to sourceing your own products, in this series of Step-By-Step Videos.
Bonus 5: - Selling On Amazon
Build your business beyond eBay, this series of Step-By-Step Videos. I show you how to set up an account and profit from Amazon, one of the worlds best known and highly respected brands.
Bonus 6: - Powerseller Interview
An interview with an eBay Powerseller, discover how this Powerseller runs his business on a daily basis. Interviewed by an eBay newbie asking the questions all newbie's and more seasoned sellers want to know. Packed with information.
How To Get My Bonuses!
Clear Your Cookies – Very Important!
Firefox Users:
Go to Tools

Go to Options

Go to Privacy and then Private Data

Click "Clear Now"

Check "Cache" and "Cookies" and then "Clear Now"

Click "Clear Private Data Now"
Internet Explorer 6 Users:
Go To Tools

Go to Internet Options

In the "General" tab (default) and under "Browsing History", click "Delete"

Click "Delete Files" under "Temporary Internet Files"

Click OK and then OK again.
Internet Explorer 7 Users:
Go To Your Control Panel

Go to Internet Options

Under "Browsing History", click "Delete"

Click "Delete Cookies" under "Delete Cookies "
After you have cleared your cookies, Join JOHN THORNHILLS MASTERCLASS from this link. After you have joined Johns Thornhills Masterclass please email your paydotcom receipt to:
admin@robert-corrigan.com and put Masterclass Bonus in the subject line, allow up to 24 hours for your bonus items to be delivered.
The best investment you can make is the investment you make in yourself, the most important part of this is to find the right mentor, John Thornhill is that mentor.